Troops: Arctic Leviathan


Troop Stats
Melee Attack:
750
Range:
1700
Ranged Attack:
2200
Defense:
999
Life:
1000
Speed:
450
Load:
100
Power:
15
Upkeep:
200
"These massive creatures dwell in the darkest depths of the North. They are mostly known for their massive size and greater range.
20% extra-damage vs Dimensional Ruiner"

 This (presumably contest-exclusive) troop is the strongest ranged troop in the game, surpassing even the mighty
Lava Jaw
. These creatures can fire both further as well as stronger, with the added advantage of being far stronger in terms of melee attack and defense. These super-troops can be trained during special events.
Arctic Leviathan are no longer immune to Soul Revival.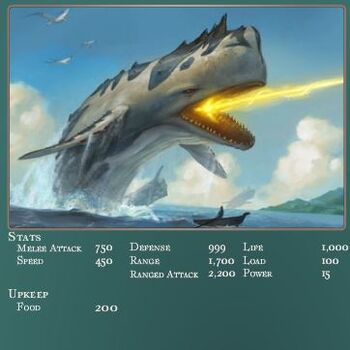 Leviathans are now trainable in the Water Outpost for certain lengths of time. 
A total of 5 Completion Grants (for a Training Camp in the Water Outpost, the Metalsmith, a mine, the Science Center and the Fortress) and 4 Ancestral Seals (to get the Fortress to level 11 and the Science Center to level 13) are necessary.
Community content is available under
CC-BY-SA
unless otherwise noted.