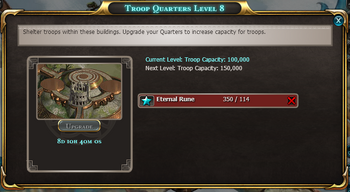 The Troop Quarters is the building that allows you to store troops in The Lost City and The Abyssal Palace. You have five Troop Quarters in each outpost, and it is not possible to build any more Troop Quarters or to disintegrate any of the Troop Quarters.
Every upgrade of a Troop Quarters allows you to have more troops in your outpost at once. You need Eternal Runes to upgrade Troops Quarters in The Lost City and Coral Doubloons to upgrade Troop Quarters in The Abyssal Palace.
You can get more/less troops in the outpost by warping them from/to the main city using the outpost warp gate. You can not warp more troops than you are able to store.
Here are a table of the stats of Troops Quarters:
Level
Building Time
Eternal Runes/Coral Doubloons
required to upgrade
Troop capacity
Power gained
1
1
5,000
60
2
1h 35m 0s
10
7,500
120
3
20
9,000
240
4
30
12,000
480
5
12h 40m 0s
50
15,000
960
6
1d 1h 20m 0s
70
25,000
1,920
7
2d 2h 40m 0s
100
50,000
3,840
8
4d 5h 20m 0s
200
100,000
7,680
9
8d 10h 40m 0s
350
150,000
15,360
10
500
360,000
30,720
11
17d 8h 40m 0s
600
400,000
61,440
12
17d 8h 40m 0s
700
450,000
122,880
13
17d 8h 40m 0s
800
510,000
245,760
14
17d 8h 40m 0s
900
580,000
491,520
15
17d 8h 40m 0s
1,000
650,000
983,040