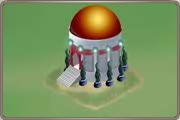 Citizens attend the Theater to be entertained and forget their cares. This increases your city's happiness. Happier citizens don't mind taxes as much. Every level increased in the Theater will increase citizen happiness by 2% or 3% (varies with level) which means you may then increase the amount that they are taxed by 2% or 3% and thus earn more gold per hour!
The Theater is also where you can view any quest movies or "Quest Highlights", which are listed here.
Popular opinion is that this building is only useful during the very early levels of the game. 
Requirements to Upgrade
| | | | | | | | |
| --- | --- | --- | --- | --- | --- | --- | --- |
| Level | Happiness Increase | Food | Lumber | Ore | Stone | Time (With Levitation Lvl. 0) | Power |
| 1 | 2% | 300 | 2000 | 400 | 1000 | 4m 0s | 30 |
| 2 | 4% | 600 | 4000 | 800 | 2000 | 8m 6s | 30 |
| 3 | 6% | 1200 | 8000 | 1600 | 4000 | 16m 24s | 60 |
| 4 | 8% | 2400 | 16000 | 3200 | 8000 | 33m 12s | 120 |
| 5 | 10% | 4800 | 32000 | 6400 | 16000 | 1h 7m 15s | 240 |
| 6 | 12% | 9600 | 64000 | 12800 | 32000 | 2h 16m 12s | 480 |
| 7 | 15% | 19200 | 128000 | 25600 | 64000 | 3h 17m 0s | 960 |
| 8 | 18% | 38400 | 256000 | 51200 | 128000 | | 1920 |
| 9 | 21% | 76800 | 512000 | 102400 | 256000 | | 3840 |
| 10 | 25% | 153600 | 1024000 | 204800 | 512000 | 1d 14h 10m 15s | 7680 |
Quest Highlights & Videos
Edit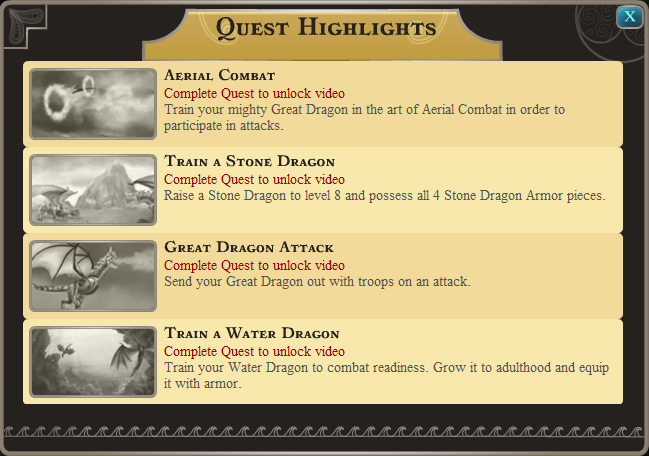 Aerial CombatEdit
Great Dragon AttackEdit
Train a Water DragonEdit
Train a Stone DragonEdit

Page last updated: 2019-02-20 18:15 (UTC)