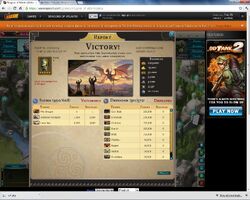 A "meatwall" or "meat shield" is the usage of any melee troop and combining them with range troops, causing the melee troops to act as a protective wall to hold enemies at bay while range troops deal the majority of damage. The most common troop used as a meatshield is the
Armored Transport
, which is typically combined with
Longbowmen
.

Meatshields are used frequently due to the fact that most range troops have low health and deal more damage attacking with range than they do with melee. If an enemy unit is within melee range of a range troop, the range troop automatically switches to melee attacking, which can turn deadly for your troops. The longbowmen, for example, deals 80 damage when attacking with range. If they are reached by enemy melee units, they will only deal 5 damage per hit, less than conscripts and equal to spies. Putting into consideration enemy troop defense stats, LBM more than likely end up doing 1 damage per hit.
Transport Troops
Edit
The most preferred melee troops used as meatshields are troops with decent load capacities, typically the actual transport troops themselves. Atlantis contains 3 types of transport troops: Porters, Armored Transports, and Pack Dragons. While Pack Dragons are too fast and too valuable to use as meatshields, ATs and Porters are popularly used, porters being replaced by ATs quickly due to the increased health, defense, and much larger load capacity.
Possible melee troops
Edit
When load capacity is not a goal and you're looking to deal massive damage, other melee troops can be a better choice. Here are a few common picks:
Not Recommended Troops
Edit
While all melee troops can be used as a meatsheild theoretically, there are many who are very rarely successful and are not recommended unless they are mixed with more appropriate meatshield troops.
Porters: While porters are used early in the game as meatshields, they are close to useless as you grow more and more powerful. Their low speed, attack, and health barely makes up for their decent load capacity. It is suggested to upgrade to Armored Transports as soon as possible.
Conscripts: Next to porters, Conscripts are the weakest troop , with one of the lowest attack, life, and defense stats in the game. They are expendable so if you do not care about losing them, they could be used as a meatshield, but do not expect them to survive very long. If you do have to use conscripts as a meatshield, only use them against low level wildernesses and camps, and send LOTS of range troops.
Giants: These troops are fairly strong for a regular troop, but their slow speed makes them a liability as a meatshield. Meatshields need to be able to move fast enough to get in front of range troops before the enemies reach them, which Giants are unable to do. On defense, however, Giants can prove excellent meatshields in a battle just like Petrified Titans.
Armored Transports
Edit
Armored Transports are the the most common and most trained troop in the game. Majority of players will have more ATs trained than any other troop. Because of their decent stats, they are used as a meatshield in all battles, from Anthropus Camps and Wildernesses to attacking other players (although attacking players with ATs does present a higher risk of losing ATs).
Armored Transports seem to have a unique effect as a meatshield. Due to some unknown cause in the game's battle mechanics, Smaller amounts of Armored Transports are more successful meatshields than large amounts of stronger melee units, such as Frost Giants.                                                                                                                                                                          
Community content is available under
CC-BY-SA
unless otherwise noted.