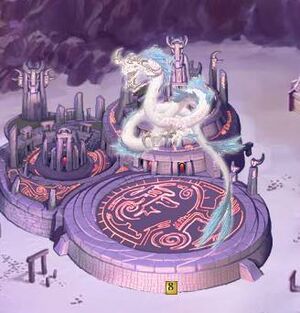 Luna Dragon
A new dragon has appeared in Atlantis. This dragon is able to summon lost souls for battle. Also, this dragon is affected by the buildings in its outpost, the Luna Plains, to increase its stats - similiar to the Skythrone and Steelshard buildings - except all the buildings are able to summon certain souls of troops for battle. The Luna dragon was released on the 26/11/2013. This dragon was available to win in the Luna tournament for the top three players of the realm. This outpost was also available in Fortuna's Wheel for two days. It was available to be won through getting to and completing the last stage of the Luna Plains Dark Tower map.
This dragon can only march with the troops that you have summoned in the Luna Plains, so when this dragon is used for a march the troop screen will switch and you can only used the troops from luna plains not your main troops. The troops here used Lunar Energy to summon similiar to Blue Energy, it takes 14 hours for the Lunar Energy to fill up at level 1, which is 1,344,000. 
The Luna Dragon cannot be used for breeding in the Sanctuary.
Armor
The armor is only available in the shop, fortuna, and prize boxes at this time.
==

==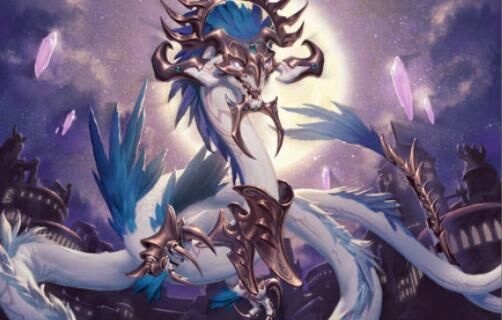 Message from Kabam
Below is the message from Kabam about the dragon.

Citizens!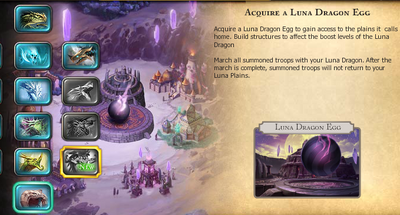 A new outpost has been discovered within the world of Atlantis -- the Luna Plains! 
After a flash of light streaked across the sky and crashed into the world, the Luna Dragon Egg was discovered. This dragon is said to hold power over the wandering lost souls of Atlantis. 
Unlock and upgrade the Luna Plains to amass a powerful army of lost souls. The more souls that fill your Luna Plains outpost, the stronger the Luna Dragon becomes, feeding off their energy. 
Use Lunar Energy to call souls to the outpost. Each soul boosts a stat of the Luna Dragon -- Life, Defense, Range, Ranged, Speed, or Melee. Upgrade attribute buildings within the Luna Plains to unlock new troop types and increase the attack boost of your Luna Dragon. Upgrade your Luna Shrine to increase the capacity and production of Lunar Energy. 
Collect souls and march them with your Luna Dragon in one destructive attack, comparable only to the power of the Wraith Dragon. Once the march has completed, your Luna Dragon frees the souls of the loyal troops that marched with her.
Unlock the unfathomable power of the Luna Dragon today!
Dragon Stats
Level
Melee
Speed
Defense
Range
Ranged
Life
Load
Upkeep
Power
1
0
0
0
0
0
0
0
0
25
2
500
275
300
400
400
40,000
0
0
50
3
900
300
600
500
700
80,000
0
200
100
4
1,900
325
1,200
600
1400
180,000
0
400
5
3,000
350
1,800
700
2,300
290,000
0
600
400
6
4,300
375
2,800
800
3,200
420,000
0
800
800
7
5,600
400
5,500
900
4,200
550,000
0
1,000
1,600
8
7,500
450
6,200
1,000
5,200
680,000
1,000,000
1,200
3,200
9
9,200
500
7,000
1,100
6,000
860,000
2,500,000
1,400
6,400
10
11,000
600
8,000
1,200
7,000
1,000,000
5,000,000
1,600
12,800
When updating this chart, please make sure you have no troops summoned, because summoned troops boost the stats