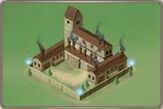 The Factory uses rediscovered science to create advanced weaponry and equipment.
Each upgrade of the Factory allows an additional level of Mercantilism to be researched. Each level of Mercantilism allows an additional simultaneous resource/gold trade.
You must upgrade the Factory in order to train Armored Transports, Giants, Fire Mirrors, and Fangtooth.

Requirements to Upgrade and Power Boost
| | | | | | | |
| --- | --- | --- | --- | --- | --- | --- |
| Level | Food | Lumber | Ore | Stone | Time | Power |
| 1 | 150 | 1500 | 1500 | 500 | 9m 0s | 20 |
| 2 | 300 | 3000 | 3000 | 1000 | 18m 13s | 20 |
| 3 | 600 | 6000 | 6000 | 2000 | 36m 54s | 40 |
| 4 | 1200 | 12000 | 12000 | 4000 | 1h 14m 44s | 80 |
| 5 | 2400 | 24000 | 24000 | 8000 | 2h 31m 20s | 160 |
| 6 | 4800 | 48000 | 48000 | 16000 | 5h 6m 27s | 320 |
| 7 | 9600 | 96000 | 96000 | 32000 | 10h 20m 34s | 640 |
| 8 | 19200 | 192000 | 192000 | 64000 | 20h 56m 59s | 1280 |
| 9 | 38400 | 384000 | 384000 | 128000 | 1d 18h 24m 44s | 2560 |
| 10 | 76800 | 768000 | 768000 | 256000 | 3d 13h 53m 5s | 5120 |